In the Beginning...
The Blue Bird vegetarian café began life in March 1995 as The Kettledrum Café. Owned and managed by Toshala Elliott (right) – a member of the The Auckland Sri Chinmoy Centre – the café was given the name Kettledrum in honour of Toshala's meditation teacher, Sri Chinmoy. Kettledrum is the English translation of Sri Chinmoy's childhood Bengali name Madal – an affectionate family epithet Sri Chinmoy earned because of his boisterous and noisy nature as a young boy.
The Kettledrum was originally (and, given its owners name, somewhat ironically) situated in the Elliott Arcade on Elliott Street in central Auckland. Sri Chinmoy visited the café in June of 1995 during a short visit to offer a free Peace Concert. In early 1997 it was decided to move The Kettledrum to its present location at 299 Dominion Road, Mt Eden, as a larger space was needed to cater for its growing popularity.
On the 13th of April that same year, Sri Chinmoy offered the enterprise a new name and by July The Blue Bird opened its doors for business at its present location on Dominion Road in Mount Eden. The poetic phrase blue bird was often used by Sri Chinmoy in reference to the soul – that spark of divinity which resides in all human beings. At the same time, he often referred to the twin themes of vastness and infinity that the soul represents and embodies.
The Blue Bird Song
On November 30, 2002, while on a six week visit to New Zealand, Sri Chinmoy wrote a song for The Blue Bird after offering a free concert at the Auckland Town Hall. The Master had visited The Blue Bird earlier that day. Below you can hear the song (click on the play button) being performed by a group of Sri Chinmoy's students – an international womens music group called Shindhu. A singer and accomplished piano accordionist, Toshala is a member of Shindhu.
Lyrics
The blue bird, the blue bird, the blue bird, the blue.
All you are is supremely true.
Your soul is Infinity's flight.
All-where you sprinkle nectar-delight.
– Sri Chinmoy.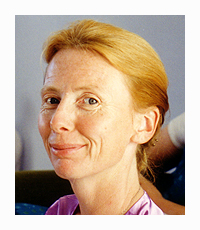 A Tribute to Subarata
Subarata Cunningham was, along with her husband Jogyata Dallas, a founding member of the New Zealand Sri Chinmoy Centre. An inspirational dynamo to all who knew and met her, Subarata passed away in 2000. We offer our heartfelt gratitude to our dear sister Subarata, for she helped to guide The Blue Bird and its staff during our formative years. We feel that without her inspiration and Sri Chinmoy's kind guidance and concern, The Blue Bird would not be where it is today.
"The soul is a blue bird which flies in the firmament of Consciousness, Light and Bliss, eternally singing only one song – the song of our Beloved Supreme's constant Victory here on earth and there in Heaven."
– Sri Chinmoy.